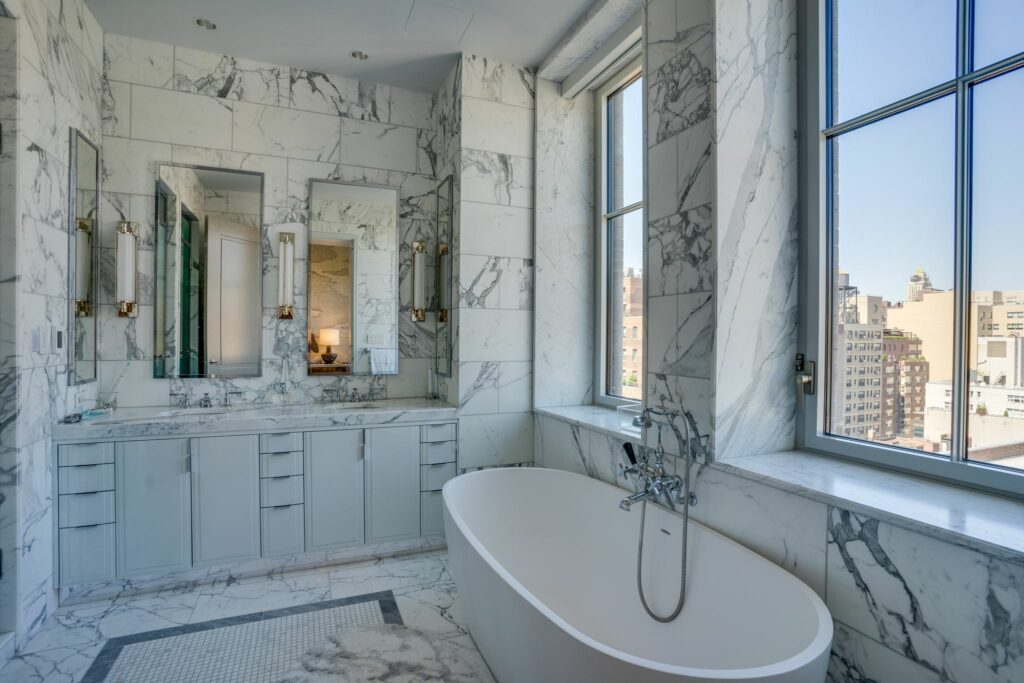 As a true New Yorker, you realize that creating a cozy vibe in your small bathroom can be a challenge. But don't worry. There's one small but impactful way to make your bathroom shine – paint!
If you do it right, a paint bucket, some creative inspiration, and the best bathroom remodeling contractor in NYC can transform your middle-of-the-road bathroom into a masterpiece.
Color has the power to affect your mood and jazz up anything mundane. But how do you know which shade to pick? Is there a rulebook?
Let us paint a picture right here.
Consider the Room Size
You want your bathroom to feel clean, fresh, and inviting. So, before you head to the paint store, break out the measuring tape and take note of your bathroom's size.
Light colors, like white and beige, visually expand a small room. They make it look airy and spacious. Deeper colors, on the other hand, work well in large bathrooms. Think more of navy blue, dark gray, and forest green.
Think About the Lighting
Lighting plays a major role in enhancing the true hue of your paint color. Natural lighting is best. But if you don't get much of that, you'll need to pick a color that stands out even in dimmer lighting. How about a bright yellow, sea blue, or even a soft pink? You can also balance the darker tones with lighter accents. Try adding a white or beige trim to the window frames or doorways. The paint finish also makes a difference. Go for a semi-gloss or high-gloss finish to make the colors pop. They reflect more light and stand out better in the dark.
Set the Tone
Of course, preferences matter. Your bathroom is where you'll relax and unwind. So, choose a color that blends in with your aesthetic. Do you prefer a beachy vibe? Or maybe a more modern and minimalistic look?
If you like bold colors, try something like bright yellow or turquoise. If you're into soft neutrals, go for grays or beiges. If you have a theme, like tropical or classic, pull in the colors that best fit it. Maybe a warm red for a rustic theme or a deep mauve for something more feminine.
Focus on the Color Combinations
Monotone is so out of the picture. Instead, focus on multi-tonal color combinations. It's not going to be easy. But the trusty color wheel can help.
Pick two colors with opposite hues for stunning color contrast. Or experiment with complementary colors next to each other on the wheel. The key is to pick a primary color for the walls and a complimenting accent for the cabinetry and trims.
Here are a few combinations that can never go wrong:
-Mint green and white
-Navy blue and grey
-Olive green and beige
Wrapping Up
Do you still have no idea what colors speak to you? Make a mood board. Look for inspiration in art, movies, and magazines. Find a style that speaks to you and bring it to life with the perfect paint color. You got this, homeowner!